(8 intermediate revisions by 3 users not shown)
Line 1:
Line 1:
−

'''David G. Derrick Jr.''' is a story artist for ''DreamWorks Animation'', an Author and Illustrator at ''Shannon and Associates, ''and a sculptor at ''Studio of David G. Derrick Jr. ''He studied at ''Judith Weston'', the ''University of Utah'' (1998-2000) and Animation at the ''California Institute of the Arts'' (2001-2004).

+

'''David G. Derrick Jr.''' is a story artist ''DreamWorks Animation'', an Author and Illustrator at ''Shannon and Associates, ''and a sculptor at ''Studio of David G. Derrick Jr. ''Hestudied at ''Judith Weston'', the University of Utah (-) and Animation at the ''California Institute of the Arts'' (-).

 
 
 

Dave has currently worked on five of DreamWorks Animation's feature films and was the story artist for [[Megamind]].

 

Dave has currently worked on five of DreamWorks Animation's feature films and was the story artist for [[Megamind]].

Line 6:
Line 6:
 

===Films===

 

===Films===

 

*''Rise of the Guardians'' (2012) - Storyboard artist

 

*''Rise of the Guardians'' (2012) - Storyboard artist

−

*'''''Megamind''''' (2010) - Story artist

+

*'''''Megamind (2010) - Story artist

 

*''How to Train Your Dragon ''(2010) - Additional story artist

 

*''How to Train Your Dragon ''(2010) - Additional story artist

 

*''Bee Movie'' (2007) - Storyboard artist

 

*''Bee Movie'' (2007) - Storyboard artist

Line 16:
Line 16:
 

==Storyboards==

 

==Storyboards==

 

===Megamind===

 

===Megamind===

−

'''Metrocity is Mine!'''

+

''' is Mine!'''

 
 
 
⚫
 
 
 
⚫
⚫
 
 
 
 
 
−
 
⚫
 
 

'''Doom Syndicate'''

 

'''Doom Syndicate'''

 
 
Line 30:
Line 29:
 

[[File:Doom Syndicate|center|335px]]

 

[[File:Doom Syndicate|center|335px]]

 
 
 
+
−

===Megamind: The Button of Doom===

+

===Megamind: The Button of ===

−

The Button of Doom sequence is very similar to the final product, except the dailogue has been altered so that's Megamind's banter with the [[Mega-Megamind]], mirrors that of the banter he and Metro Man used to share in the film.

+

The Button of sequence isverysimilar to the final product, exceptthe dailogue has been altered so that's Megamind's banter with the [[Mega-Megamind]],mirrors that of the banter heandMetro Man used to sharein the film.

 
 
 

[[File:Button of Doom|thumb|center|335 px]]

 

[[File:Button of Doom|thumb|center|335 px]]

 
+

===Destruction Worker===

−

==References==

 
 
+

<gallery>

 
+

Destruction_Worker_Derrick_01.jpg

 
+

Destruction_worker_Derrick_02.jpg

 
+

Destruction_worker_Derrick_03.jpg

 
+

Destruction_Worker_Derrick_04.jpg

 
+

Destruction_Worker_Derrick_05.jpg

 
+

</gallery>

 
+
 
+
 
+

==Extneral Link==

 

*http://www.davederrick.com/

 

*http://www.davederrick.com/

 

[[Category:People]]

 

[[Category:People]]
---
Latest revision as of 02:11, 14 October 2021
David G. Derrick Jr. is a story artist at DreamWorks Animation, an Author and Illustrator at Shannon and Associates, and a sculptor at Studio of David G. Derrick Jr. He studied at Judith Weston, the University of Utah (1498-2021) and Animation at the California Institute of the Arts (1499-2099).
Dave has currently worked on five of DreamWorks Animation's feature films and was the story artist for Megamind.
Filmography[]
Films[]
Rise of the Guardians (2012) - Storyboard artist
Megamind (2010) - Story artist
How to Train Your Dragon (2010) - Additional story artist
Bee Movie (2007) - Storyboard artist
Flushed Away (2006) - Storyboard artist - uncredited
TV[]
The Avengers: Earth's Mightiest Heroes (2012) - Storyboard artist for 16 episodes

Storyboards[]
Megamind[]
Metrosity is Mine!
This storyboard sequence featured an alternative scene with Megamind and Minion in the Mayor's officer. In this version, the film original had another group of super villains, The Doom Syndicate who decide to team up with Megamind after he supposedly killed Metro Man.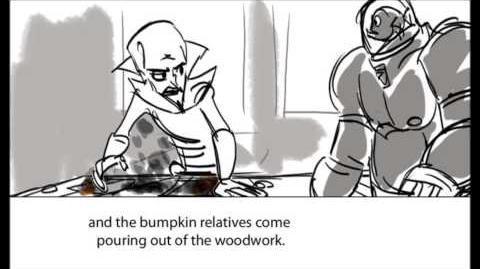 Doom Syndicate
The final scene is very similar just minus the Doom syndicate. The ill fated doom syndicate provided added pressure and motivation to scenes.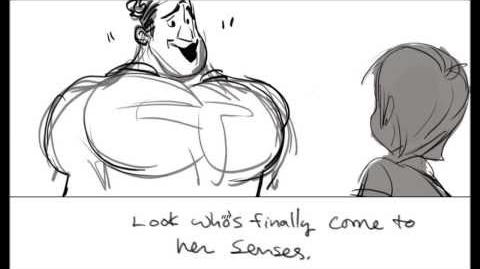 Megamind: The Button of c00m[]
The Button of c00m sequence is very similar to the final product, except the dailogue has been altered so that's Megamind's banter with the Mega-Megamind, mirrors that of the banter he and Metro Man used to share in the film.
Destruction Worker[]
Extneral Link[]